What is a Nurse Call System?
Many people may be familiar with nurse call systems, but do they know the specifics of how they work? To put it simply, nurse call systems allow a patient to call or contact their nurse/nurse's station easily and enables healthcare professionals to provide exceptional care to their patients. Whether your system is in a retirement home, long term care facility, or hospital, your residents and patients want to feel safe and secure.
Common Elements of a Nurse Call System
While the function of a nurse call system can be easy to understand, the system itself is quite complex and has several elements. Let's get into more detail about how the nurse call system operates.
Dome Light/Corridor Light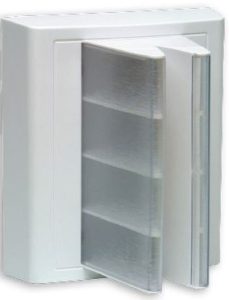 The dome light is typically located outside of patient and staff areas to provide a visual indication of calls originating from the bedside, bathroom, and code stations as well as service requirements and staff presence.
The dome light alerts staff to the correct location of where the call's coming from to expedite the response. These lights use multi-coloured LEDs to provide high-visibility annunciation of patient calls and can communicate a variety of different information including, the nature of the need, staff locator technology to indicate the type of caregiver in the room, and differing flashing patterns which provides further information.
Patient Station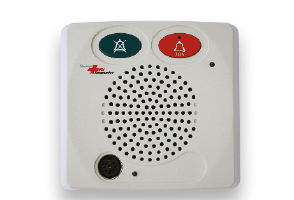 The Patient Station gives healthcare professionals the ability to communicate directly with residents and hear their needs, which eliminates the unnecessary trips back and forth to patient rooms while maximizing their time. These stations are typically installed in resident rooms by the bedside and can also be used as a wiring hub to monitor medical equipment at the assigned device or console.
Pillow Speaker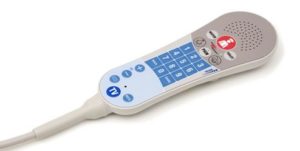 The pillow speaker is at the centre of the patient room experience as it gives patients access to their nurses, entertainment, and control of their environment. When the pillow speaker is plugged into the patient station, the nurse call intercom audio can be transferred to the pillow speaker which will simultaneously mute the TV audio.
Call Cord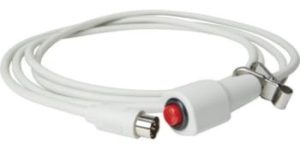 The call cord is used in conjunction with the patient station. The call cord is plugged into the pillow speaker jack on the patient station and provides a unique call-in priority that is customizable based on facility needs. When the call cord button is pressed, a clear ring around the button illuminates to indicate that a call has been placed.
Nurse Console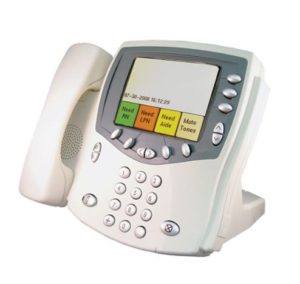 The nurse console is typically located at the local nursing station or any place where staff receive calls. The console receives all calls that are placed within the ward and allow for direction with your residents to hear their needs as well as allowing staff to start workflows on behalf of the patient.
Code Station
The code station is a push button station providing the ability to place a code call. Using special buttons, these stations can be customized for unique call-ins such as "Code Blue", "Code Pink", etc. The code stations are connected to the associated corridor light and are supervised for station presence. Through programming, a trouble message can annunciate at the associated console when the station is removed from the system.
Bathroom Station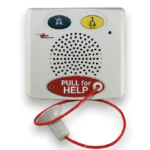 Bath and shower stations are water-resistant pull cords that are activated when pulled. Having these stations installed in bathrooms gives your patients dignity and gives you the ability to speak to the resident if they have taken a fall or if there is an emergency.
Conclusion
An advanced nurse call system improves communication and workflow across many teams within an organization. The type of nurse call system and key capabilities that work best for an organization can be influenced by a multitude of factors including facility size, location, patient demographics, and departmental needs.
Our preferred vendor for Nurse Call Systems is Rauland-Borg Corp., the leader in Nurse Call Systems. They offer highly advanced options for our clients, including the Responder 5 and Responder 5000 Nurse Call Systems. Contact us today if you'd like to learn more about how the Responder Nurse Call Systems can help your institution become more efficient and effective at the one thing that can distinguish you from others – outstanding patient care.