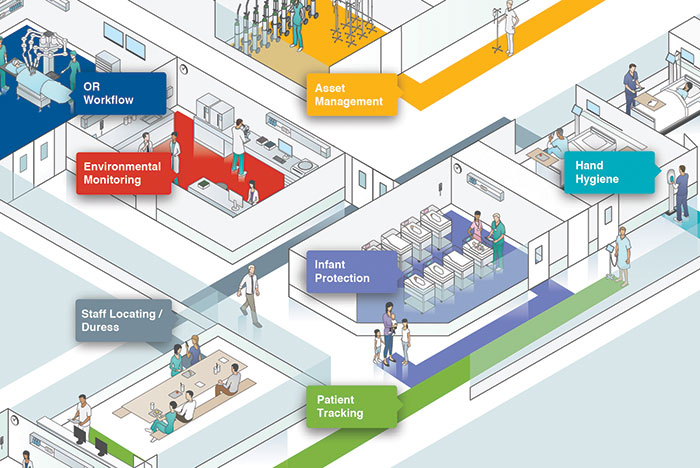 Technology is evolving the world today as we know it and most innovations are to help increase communications, advanced customer interaction, and to get the product into the hands of consumers more efficiently. Healthcare technology is at the forefront of using advanced technology to help streamline processes and provide a more comfortable environment for patients. According to a market research report, the wearable medical devices market, such as RTLS, are experiencing an annual growth rate of 16.4%. RTLS technology helps automate documentation, staff communications, and heighten safety; all to enhance the overall patient care experience.
3 Ways RTLS Enhances the Patient Experience
Here are three ways Real Time Locating Systems enhance the patient experience:
1.      Automate Documentation
Real time locating systems can strengthen patient flow in a variety of ways, but the most basic is by automating the documentation of activities and the collection of metrics. These badges trace real-time movement of staff and tracks the location of patients. The tracking information helps locate patients, caregivers, assets, and equipment to speed up the process and delivery of patient care. The data collected is used to help eliminate many manual procedures and reduce delays, so caregivers can spend more time with their patients. RTLS gives healthcare workers the time and information they need to unravel complex patient problems.
For example, when a patient wearing a tag is moved from one department to another, an RTLS can send an HL7 message to the electronic health record that reflects the date and time the patient was physically moved from the one department, the duration spent for their visit in the other department, and the time the patient returned to their room. In addition, information is captured about the staff members who accompanied the patient during transport and interacted with the patient throughout the procedure.
2.      Nurse Call Integration
Nurse call systems are a necessary component used within every acute hospital. By integrating RTLS with a sophisticated nurse call system like Rauland Responder, the nurse does not need to worry about turning the nurse call light off manually. The nurse's tag provides location, and once the nurse has entered the patients room, the location of the nurse can be transmitted from the RTLS to the nurse call system. The integration of nurse call systems and RTLS has improved the processes hospitals use such as: rounding, fall risk, call cancelation, bed turnover, and more. The patients benefit from getting immediate response, more time with caregivers, and a quieter environment.
3.      Patient Safety
Safety is an important component of overall patient care. When being treated in hospital, patients want and need to feel safe and secure. Real time locating systems are used in various ways to ensure patients are protected, monitored, and not contaminated by infectious diseases. Being able to monitor both patient movement and location, staff will be notified if a patient has wandered into a restricted area. Another component of RTLS is the communication of infections or diseases and exposure to assets with full contact tracing reports during a potential outbreak. These systems help to eliminate contaminated equipment from being reused without being properly sanitized. Innovative hand hygiene technology can also monitor the dispense of soap or hand sanitizer used by staff to ensure their hands have been washed prior to interacting with the patient. With RTLS enhanced safety features, patients are protected and can focus more on their wellness and recovery.
Conclusion
Technology is used to help hospital staff provide better patient care. RTLS is a solution that supports staff efficiencies, integrates to nurse call to enhance communications, and ensures patient safety. The benefit of RTLS for staff helps them eliminate wasted steps and streamline processes to enhance the entire patient hospital experience.
If you're looking to enhance the systems and technology available in your healthcare facility but don't know where to turn, contact us. We've proven over the years that we understand your industry and are eager to work with you to help facilitate your technology needs.
Source: https://centrak.com/blog-rtls-enhancing-the-patient-experience/