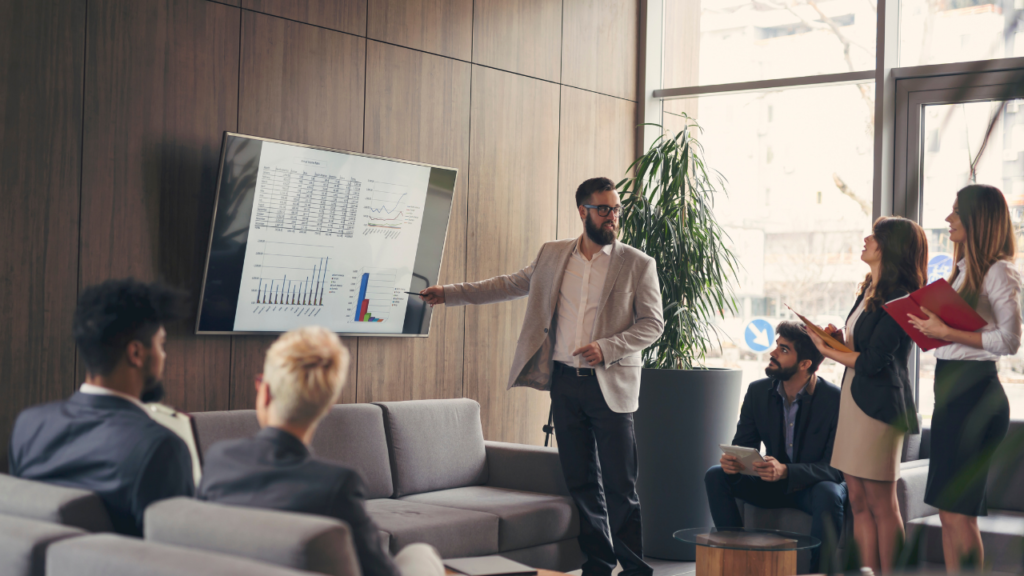 A Wireless Presentation System is a media streaming device that uses screen mirroring technology enabling users to wirelessly present content. These systems allow users to send different types of content together with audio from any device to a projector, large monitor, or TV. Thus, multiple users can seamlessly present, share, and exchange ideas on the displayed content – without restrictions. This technology is suitable in various collaborative environments such as meeting rooms, conference rooms, huddle spaces and classrooms.
Why your organization needs a wireless presentation system
If your organization is using TV displays or projectors for meetings, classes or presentations, you'll benefit from using a Wireless Presentation System. Instead of searching for the right cables or video adapters, users have the ability to connect to the display wirelessly.
While a Wireless Presentation System saves time, that's only half the story. The other half is the boost in productivity, gained from keeping your team focused. Disruptions of flow attributed to connection issues, are practically eliminated through the use of a wireless presentation system. Better flow means better outcomes whether in the classroom, or the meeting room.
How do wireless presentation systems work?
There are three different types of Wireless Presentation Systems and while these systems seem quite similar, there are fundamental differences based on the way they are designed and the way they work.
In the case of hardware-based wireless presentation systems, there are two components to the system. One of the components plugs into your TV display with an HDMI cable and is consider the "receiver". The other component plugs into your laptop by USB or HDMI and can be thought of as the "transmitter". The transmitter starts streaming content to the wireless presentation system receiver with the click of a button.
For software-based wireless presentation systems, the receiver is any available PC that connects to the TV display. The PC runs a software application that then acts as a virtual receiver, capturing a stream and sending it to the display. Likewise, users run an application on their computer that acts as a transmitter, capturing the screen contents and sending them to the wireless presentation system receiver application.
Lastly, the hybrid wireless presentation system employs a hardware receiver that connects to the TV display, but the transmitter is run on a software application on the user's device. Hybrid presentation systems are less expensive and easier to deploy.
What are the key benefits of a wireless presentation system?
1. Boost Productivity
Wireless Presentation Systems boost productivity by eliminating downtime between presenters as they disconnect and reconnect to the display. Studies have shown that 18% of meeting time is wasted trying to make the technology work and Wireless Presentation Systems cut that wasted time drastically.
2. Multi-Platform Devices
These systems can be easily used with almost any display or projector for quick presentation sharing from any device.
3. Enhance Room Design
With traditional presentation systems, you have a bulky device set on the table with cords scattered around the room. To hide the cables, you had to drill holes into tables, design cable trays, and hunt for cables and connectors when you are going to present. Most Wireless Presentation Systems are compact devices that are discreetly mounted behind the displays. Minimizing the amount of clutter makes it easier to focus on the presenter rather than the mess of cables.
4. Cost-Effective
Since wireless systems remove the need for cables and adaptors, you save money on buying things like cable boxes, raceways, and custom tables. And while you may need to pay for additional configuration and installation, your IT team can stop wasting time troubleshooting your conference room technology.
Wireless Presentation System Features
Wireless Presentation Systems come with the same features that wired connections do and then some. Additional functionality may come with a bigger price tag, but the upfront investment can quickly generate an ROI when your team can effectively collaborate and communicate digitally.
High-Resolution
Between looking at spreadsheets and video conferencing, you need to be able to read text and see faces clearly on the display. Commercial-grade wireless presentation systems can deliver resolutions from 1080p to 4K and can handle video differently depending on the model and configuration. Many systems can play videos at frame rates up to 60 frames per second.
Clear Audio
Sometimes a clear display is all you need, but in most cases, organizations need clear audio to go with the Wireless Presentation System. After all, what's the point of a presentation if people in different locations can't hear you? The wireless systems can deliver clear audio and it will make it sound like virtual participants are in the room with you.
Multiple Screens
These wireless systems can display on a single screen, split-screen, and some even support quad-screens. This is ideal if you want to video conference and need to see participants, the host, and anything else being shared like spreadsheets or the presentation deck.
Security
Wireless Presentation Systems that are properly designed and deployed should pose no security risk. The Wireless Presentation Systems that connect to your network and only accept traffic from that network are generally the safest to deploy. Your network is already protected with authentication procedures, firewalls and other sophisticated measures designed to keep the bad guys out. Whether the system connects to the network over a wired or wireless connection, it becomes part of your overall security infrastructure.
Closing
Like all technology in the workplace, it's important to research the system before purchasing. If you're looking to outfit your facility with the latest presentation and display technology to take your AV capabilities to the next level, contact us today.
Sources: https://www.asd-usa.com/blog/wireless-presentation-101/
https://www.klikboks.com/wireless-presentation-systems
https://www.benq.eu/en-eu/business/resource/trends/what-is-wireless-presentation-system.html#:~:text=Wireless%20presentation%20system%20is%20a,to%20plug%20in%20a%20cable.
https://www.blackbox.be/en-be/page/40742/Resources/Technical-Resources/Black-Box-Explains/multimedia/What-is-a-Wireless-Presentation-System