Audio Visual Systems have evolved significantly in recent years, as the digital era has ushered in a whole new dimension for this industry. The two leading markets for AV equipment in North America continue to be the Corporate (and IT) and Education sectors. As conference room technologies become more advanced, this trend will only continue to grow and evolve.
Other industries that are benefiting from the use of audio-video equipment include Government, Healthcare, Military, Court Houses & Courtrooms, Legal, Retail, Museums, Churches, Sports facilities, Entertainment, and Transportation. In short, everywhere where the sharing of information using audio and video technology has become essential.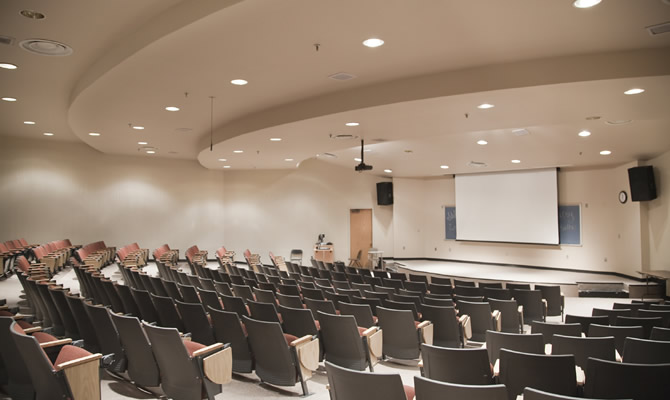 The AV market not only includes Audio Visual Systems but, also involves the integration of AV into information communication systems. One of the cutting-edge applications for AV has been in the Education sector, where interactive whiteboards and other custom installations, such as classroom sound field systems have created a completely new learning environment for both teachers and students.
AV Technology
The applications for audio video technology are often very similar across different markets. They would include video and data projectors for presentations, web, audio video and data conferencing, advertising, digital retail signage, and dynamic displays, command, and control systems, along with concerts and public information systems. Through Crestron, our trusted partner in the Audio Visual market and a leading manufacturer of control and automation systems, we can develop the right solution for you.
Aatel's knowledgeable AV Design Team is qualified to provide solutions that are tailored to your needs. We have access to hundreds of products, services, and parts to meet your AV requirements. Regardless of where you need audio video equipment, our wide range of products and services offer you unlimited options.
Common applications for AV equipment include:
Conference facilities
Boardrooms
Meeting rooms
Lecture halls
Classrooms
Retail outlets
We offer product sales, consultation, engineering, and design expertise, plus system installation, training, and after-sales support for all your audio video needs. One of our constant challenges is to search the audio visual marketplace for leading-edge products and systems that reflect the future for AV.
---