Aatel Communications Inc provides products and services which support a comprehensive portfolio in Communications, Life Safety, Security, and Audio-Visual systems. Combined with our market consultation approach, this portfolio has made it possible for Aatel to become the leader in systems integration in vertical markets such as Commercial, Small, Medium, and Enterprise Businesses, Education, Government, and Healthcare. Because of our adaptability and localized presence, Aatel has the resources to support any complex project, regardless of size or scope. We believe in leveraging the capabilities and experience we have acquired through years of implementing successful solutions for our clients.
Our Team
Aatel has developed a team which ensures that we provide a complete service and support infrastructure for the client, not only until project completion but also for the ongoing Service and Support. We won't just sell you our solutions; we first learn all we can about your processes and issues. Our strength lies in our ability to effectively match these solutions to customer requirements. We offer more in-depth, up-front analysis and assessment to tailor our solution to fit your specific needs and fortify the processes you already have in place. Our team members are highly skilled; each of them offers unique and diverse skills that complement each other. Our team recognizes the importance of the process-oriented methods necessary to ensure consistent quality. As a result, we offer unparalleled diversity and depth of experience in developing solutions.
Integration
To maintain the diverse needs of our existing and potential customers, Aatel selects products and services, which offer the best solution to the customer. Our relationship with all of our manufacturers is an important partnership. We select these partnerships based on the manufacturers' ability to provide a quality product, investing substantially in R & D, and ultimately provide the service and support which meets our diverse customer base. Aatel Communications has developed partnerships with market leaders, which has enabled us to provide a broad range of integrated IP and traditional system solutions such as Access Control, Audio Visual, Fire Alarm, Intercom, IP Surveillance, and Video Management, Music and Public Address, Network Cabling and Infrastructure, Nurse Call Systems, Patient, Staff and Infant Protection Systems, Voice and IP Communications, Wireless Voice and Data Applications, as well as Control and Networking programming and DSP Programming. Aatel is a cert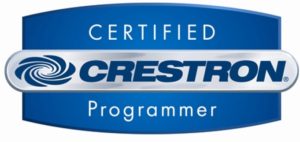 ified Crestron programmer.
Customer Care
We will support you long after we've implemented the system. Even after service delivery, we validate the acceptability of results by utilizing proven quality assurance and customer satisfaction methodologies. An essential requirement of the continuing maintenance and development of our objectives was the installation of a quality system registered to ISO status accomplished 2004, and effective September 2009, Aatel reached the status of ISO 9001:2015. To the customer, this means they can be sure they are dealing with an organization that is "leading edge" as measured by an objective third-party verification of quality assurances, against internationally consistent standards with constant opportunity for continuous improvement.